Family favorite Chicken Divan – thestayathomechef.com
Chicken Divan is full of hearty chicken, creamy sauce, and the most amazing buttercracker topping. It's a family casserole that is super easy to make!
There's nothing like a good old-fashioned family-style casserole. Casseroles are easy to make, taste amazing, and feed a crowd. What is there not to love? This sauce is oh so creamy, with a hint of lemon juice and sour cream. This decadent meal is meant to be served in large, overly indulgent servings. Seriously folks, this is the epitome of home cooking. By adding the broccoli and making the sauce from scratch and not out of the can, this meal is more than pure indulgence. It's also a well-balanced meal.
Chicken options:

We love how versatile this dish is with the chicken. You can use thighs or breasts, or even leftover chicken. We love using shredded fried chicken as a time saver.

Fresh vs. Frozen Broccoli:

You can use either fresh or frozen broccoli in this recipe. Regardless of what type of broccoli you use, be careful not to over-cook it so that it doesn't turn to a mush.

Topping options for Chicken Divan:

If you're not a fan of butter crackers, you can always stick to a regular breadcrumb topping.
Make instructions in advance:

You can prepare this casserole up to 24 hours in advance and keep it in the refrigerator until baked. Note that if you prepare it early and keep it in the refrigerator, it will take longer to bake, a total of around 1 hour.

Freezer Instructions:

Make your casserole, but don't bake. Cover with several layers of plastic wrap and / or foil. Store in the refrigerator for up to 3 months. Thaw in the refrigerator overnight before baking. You need to cover it with foil for the first 30 minutes of the baking time and then finish cooking uncovered for another 45-55 minutes.

Storage and rewarming instructions:

Store any leftovers in an airtight container in the refrigerator for up to 7 days. Heat individual portions in the microwave in 30-second increments until they have warmed up, a total of about 90 seconds to 2 minutes.
If you like this recipe, you might be interested in these other delicious casserole recipes: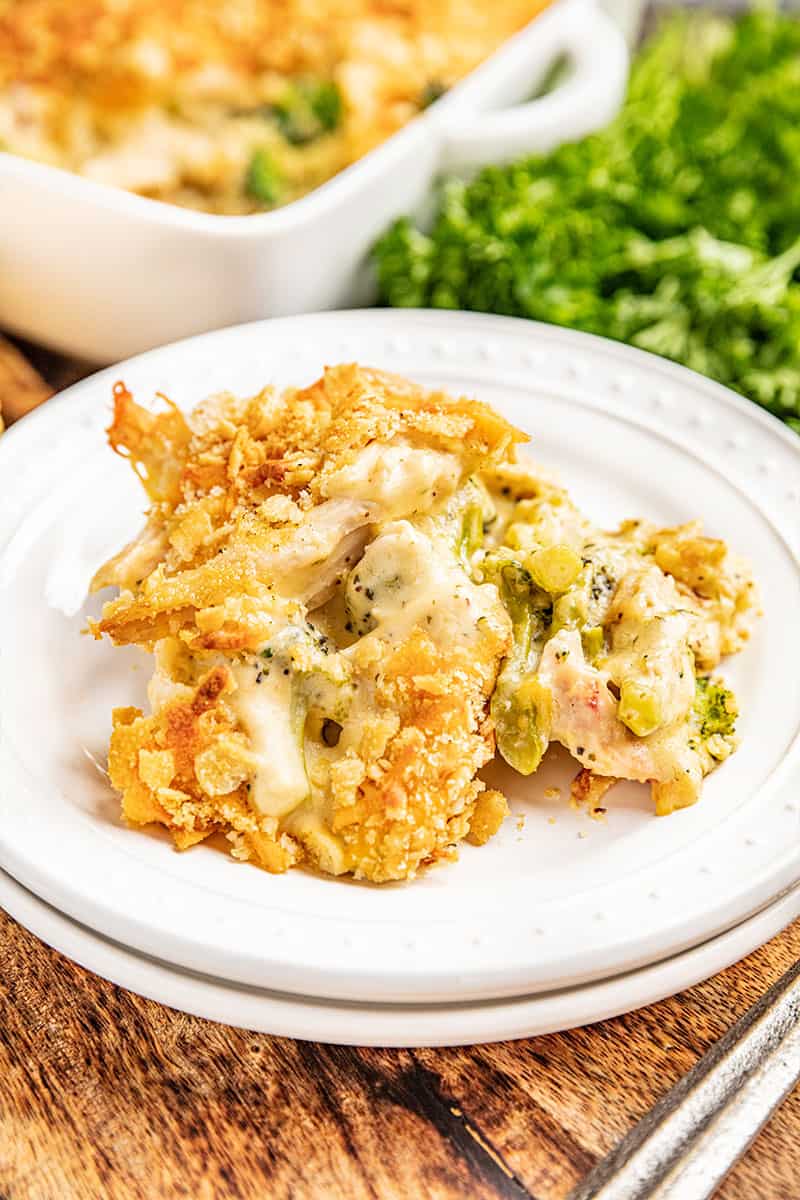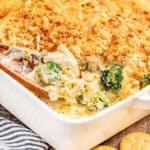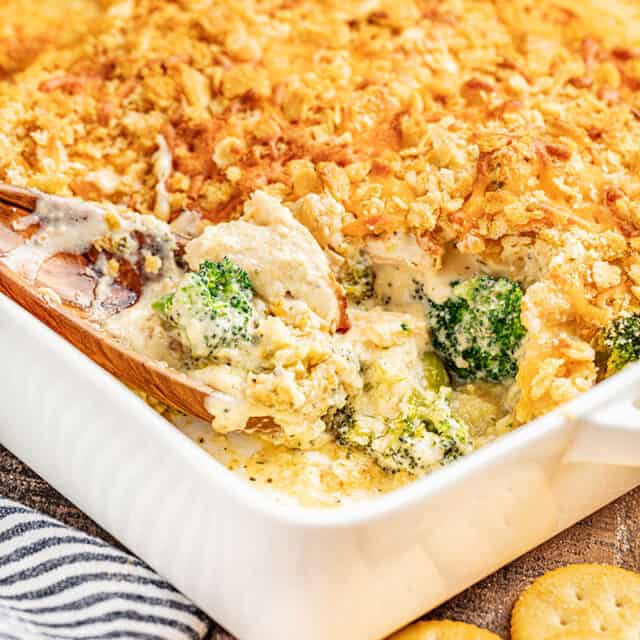 This dish is easy to put together and can relieve the stress of mealtime. It is also a perfect dish for meal preparation.
Preparation time fifteen protocol
cooking time 45 protocol
total time 1 hour
ingredients
2

cups

filling

ready to pack instructions

2

cups

Broccoli crowns

muffled

2

cups

chicken

cooked, diced or lightly shredded approx 2 lbs
sauce
4th

tablespoon

Salted butter

4th

tablespoon

All-purpose flour

2

cups

chicken soup

1

Cup

Whipped cream

1

Cup

sour cream

1/4

Cup

Lemon juice

Freshly squeezed

1

tablespoon

granulated garlic

1

tablespoon

Stone ground mustard

2

teaspoon

parsley

2

teaspoon

Onion powder

2

teaspoon

Salt-

2

teaspoon

black pepper

3rd

cups

hot cheddar

shredded, shared

1/2

Cup

mayonnaise
Covering
2

cups

Ritz crackers

crushed

2

teaspoon

granulated garlic

4th

tablespoon

butter

salted, melted
manual
Preheat the oven to 375 degrees Fahrenheit and lightly grease a 9 × 13 pan (or equivalent).

Spread the cooked filling on the bottom of the pan. Spread the cooked broccoli crowns on top of the filling and top with the cooked chicken.
sauce
In a sauce pan add the butter and melt over medium heat. After melting, sprinkle in the flour and stir continuously until everything is well mixed and the mixture takes on a deep golden color.

Add the chicken broth, heavy cream and sour cream to the sauce pan. Stir until all ingredients are smooth and bring the heat to a simmer.

Add lemon juice, granulated garlic, mustard, parsley, onion powder, salt and pepper to the sauce mixture. Mix well. Add 1 1/2 cups of grated cheese. Take off the stove

Add the mayonnaise and stir the sauce. Pour sauce over the chicken layer.
Covering
Scatter the rest of the cheese on top of the sauce.

Melt the butter and mix it with the Ritz cracker crumbs. Add the 2 teaspoons of granulated garlic to the mixture. Cover the casserole with the mixture.

Bake the casserole at 375 degrees for 45 minutes or until bubbly and browned. Serve hot!
Portion: 8thG | Calories: 723kcal | Carbohydrates: 30thG | Protein: 16G | Fat: 61G | Saturated fatty acids: 30thG | Trans fat: 1G | Cholesterol: 136mg | Sodium: 1685mg | Potassium: 331mg | Fiber: 3rdG | Sugar: 4thG | Vitamin A: 1706IU | Vitamin C: 28mg | Calcium: 422mg | Iron: 2mg